Best Suspension Upgrades for the Ram 1500
The Dodge Ram 1500 is one of the most popular pickup trucks currently on the market, thanks to its exceptional storage capacity, impressive power and excellent standard and optional safety features. Still, many people with heavy-duty work or recreational applications want to find a way to get more out of this popular truck when it comes to payload capacity and overall performance.
Whether you use your truck on construction job sites or you take it off the road and over bumpy and challenging terrain, there are a lot of options for suspension upgrades to improve the carrying and handling capacity of the Ram 1500. If you are a Ram 1500 pickup truck owner with an eye on increasing your factory carry and towing capacity, it's good to know there's a variety of products on the market for a cost-effective solution.
Some very powerful options to upgrade your suspension include heavy-duty coil springs and SuperSprings — but which one is right for you? Read on for more on the best suspension upgrades for the Ram 1500, with information and insight into choosing the equipment that makes the most sense for you.
Heavy-Duty Coil Springs: Powerful Suspension Upgrades

Heavy-duty coil springs are a good choice for a truck that will see farming and agriculture or is used to carry equipment, soil, feed and other materials regularly. Ram 1500 suspension upgrade heavy-duty coil springs are also effective before the installation of a heavy snowplow, or for work trucks that will be hauling heavy loads routinely in construction, road maintenance, landscaping and many other industries. If you are continually hauling heavy loads, you want an easy way to increase your load capacity — and adding heavy-duty coil springs can do just that.
For the Ram 1500, we have two main options for rear suspension heavy-duty springs. The first suspension upgrade for Dodge Ram 1500 trucks will increase the capacity by 25% with a rated load per spring of 2,250 lbs. The second, more robust set of rear coil spring replacements will increase the capacity by 50% with a rated load per spring of 2,700 lbs.
If you're not sure which is right for you, our knowledgeable team will assist in analyzing your needs to identify the products that represent the best fit.
SuperSprings for Your Dodge Ram Truck

SuperSprings are a unique product that sits over your regular springs and will only engage when the factory springs reach their load capacity. This innovative product ensures that you do not have the stiffening seen with heavy-duty springs that can happen when you are riding without a load. You benefit from improved handling, hauling and towing at maximum capacity while enjoying a smooth, controlled ride with no squatting, sagging, swaying or hopping.
For the Dodge Ram 1500, there are two main options for SuperSprings suspension upgrades depending on the model year. For models from 1972 to 2001, regular load SuperSprings are rated for 950 lbs. and heavy loading models are rated for 1,500 lbs. For models from the year 2002 to 2008, the regular loading models have a capacity of 900 lbs. and the heavy loading models have a capacity of 1,300 lbs.
Whether you need a light, medium or heavy loading option to upgrade your Ram 1500 suspension system, there are many advantages of choosing our SuperSprings. The unique design ensures you never have to deal with squeaks, groans, moans, rattles or other annoying and distracting sounds. Ram 1500 suspension SuperSprings are easy to install with standard hand tools. Projects typically take one hour or less with no drilling or cutting and no additional maintenance requirements.
Where to Go for the Best Advice on Suspension Upgrades for Dodge Ram 1500 Trucks?

General Spring has been an automotive leaf spring and suspension authority since 1965, and in this time we have learned much about finding the right suspension product for your unique suspension needs. When you contact us for product information or customer support, you will be talking to representatives who work in our facility and have extensive experience installing and using leaf springs and related suspension upgrade parts.
We can also look into other suspension upgrades like the Roadmaster Suspension System or Timbrens that can also improve the suspension capacity of your Dodge Ram 1500 truck. Whether you need to replace old, worn, cracked or broken springs, or need a heavy-duty option, we likely have what you need, and we're confident that we can provide a superior product at a competitive price.
Premium Aftermarket Ram 1500 Suspension Parts and Custom Design Capabilities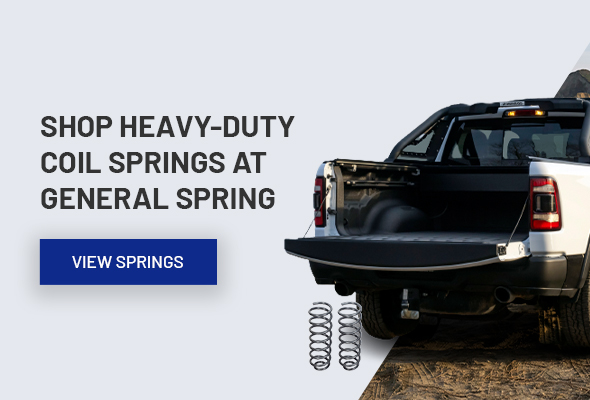 We only work with the most trusted and reliable North American manufacturers and we warehouse a lot of product at our facility for fast shipping. If you have a unique suspension need, we have the ability to have leaf springs custom made. Some older vehicles, where springs may not be readily available, may require the assistance of General Spring.
We also provide suspension upgrades for Dodge Ram 1500 trucks used in specialty or heavy-duty applications. When you're looking to upgrade your suspension, we have the know-how to help you find the right product, so don't hesitate to get in touch now.
Purchasing Ram 1500 Suspension Upgrade Products From General Spring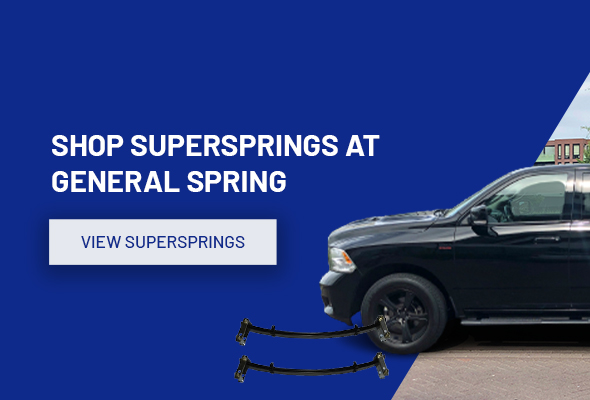 No matter if you're in the market for heavy-duty coil springs or SuperSprings, we strive to make the process of shopping and ordering as simple and affordable as possible. We offer a massive inventory in stock and fast nationwide shipping so you can get your truck back on the road and performing better than ever. Our aftermarket leaf springs meet or exceed OEM standards and are backed by an excellent one-year warranty.
Shop at General Spring today and submit our online contact form to request more information and to speak with a live representative. We'll be happy to answer all your questions about the best suspension upgrades for the Ram 1500 and provide assistance placing your order.