When it comes to rugged reliability, the Toyota 4Runner is tough to beat. Your 4Runner is comfortable on the road and tough on rougher terrain. Whether you're traveling city streets or navigating winding dirt roads and riverbeds, you can trust your Toyota 4Runner to get you where you're going safely and in style.
However, your truck can take a beating, and it requires maintenance like any vehicle to stay at peak performance. Over time, large loads and difficult terrain can wear down your leaf springs. This can result in a rougher, bumpier ride and decreased stability.
If you're looking for upgrades or leaf springs for your Toyota 4Runner, you've come to the right place. General Spring has all the parts you need, available to ship nationwide.
Toyota 4Runner Suspension Upgrades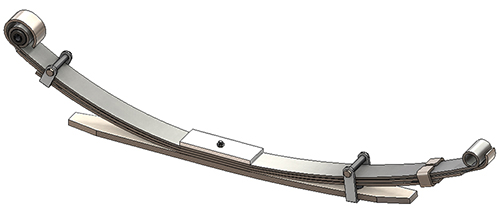 Is your Toyota 4Runner leaning, sagging or running rougher than you're used to? It may be time for a suspension upgrade. Replacing your leaf springs can get your Toyota rolling along smoothly and safely in no time. Look no further than General Spring for leaf springs and Toyota 4Runner suspension upgrades.
Leaf Springs for Toyota 4Runner
Leaf springs support your truck and ensure a smooth ride, even on roads with bumps and potholes. But they can break or become worn down, especially in the Toyota 4Runner.
Leaf springs are easy to install and feature a flexible design for superior load control. They are the most common type of vehicle spring because of their simple yet efficient and reliable design. General Spring offers a comprehensive lineup of leaf springs for various makes and models of Toyota 4Runners. Browse our selection of leaf springs for Toyota 4Runners online.
Roadmaster Suspension
Are you looking for an upgrade for your existing or newly-replaced leaf springs? Upgrading the suspension in your truck can make a significant difference when it comes to the stability you need to haul the heaviest loads safely.
Roadmaster Active Suspension acts as an all-in-one track bar, sway bar and airbag along with your existing leaf spring system. This system absorbs shock and dissipates load source energy, giving you greater control and improving traction. General Spring offers fast ground shipping on all Toyota Roadmaster Active Suspension kits.
The General Spring Advantage
Why choose General Spring for your leaf spring and suspension upgrades? We've specialized in vehicle suspension systems for over 50 years. Instead of spending hours tracking down the parts you need, browse our vast inventory online and get them shipped to you fast at low, competitive prices.
At General Spring, you can count on the best customer service in the industry. You won't find experts with hands-on experience, knowledge and a passion for customer satisfaction anywhere else.
Browse our inventory of Toyota 4Runner leaf springs and place your order online today or contact us for more information.