Details to Consider When Choosing Leaf Spring Suspension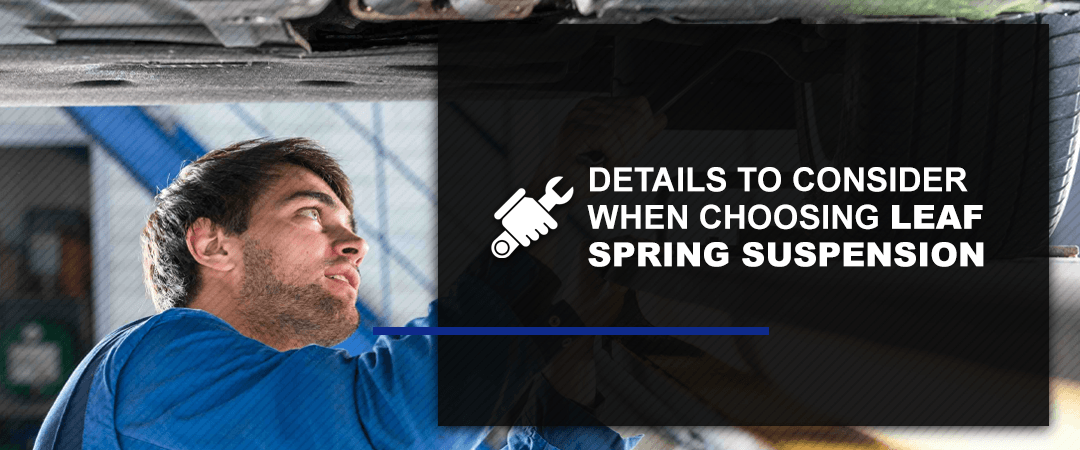 As leaf springs age, they'll begin to break, crack and sag. While leaf springs get older, their steel can end up stretching. They can loosen and eventually harm your suspension system. Leaving worn-down leaf springs in your vehicle can lead to major damages. As a result, it's crucial to replace leaf springs when they start showing signs of wear.
If you need replacement leaf springs, you can choose the best leaf spring for your vehicle by knowing more about the differences between stock leaf springs and heavy-duty leaf springs. You may also want to learn more about the details that make some leaf springs superior to others.
Choosing Between Stock Leaf Springs or Heavy-Duty Leaf Springs
When you're shopping for leaf springs, you'll likely want to consider the difference between heavy-duty leaf springs and stock leaf springs. One option may be superior for your specific application, so it's crucial to know the difference between them and what duties they can handle. Below, learn more about how to choose a leaf spring for your needs.
When You Need Stock Leaf Springs
Leaf springs will stretch over time, leading your vehicle to sag. This phenomenon can eventually lead to a breakdown or put the vehicle in harm's way. Stock leaf springs are usually best for those who are happy with their vehicle's performance and need to replace leaf springs that have worn down over repeated use.
When you're looking to get your vehicle back to its optimal riding height and original condition, stock leaf springs are going to be ideal. General Spring offers many standard original equipment manufacturer (OEM) leaf spring options for trucks and cars to get your vehicle in working order. By putting these OEM leaf springs in, you'll return your vehicle to stock condition and have many years of safe and comfortable driving ahead of you.
When You Need Heavy-Duty Leaf Springs
If you're not looking to restore your truck's original condition and instead want to increase its load capacity, you may want to choose heavy-duty leaf springs instead. When you upgrade to heavy-duty springs, your truck, SUV, car or van will be able to carry more weight. This increase in load capacity can reduce the amount of time it takes to complete a hauling job, as you don't have to take as many trips.
At General Spring, we're here to provide our customers with heavy-duty leaf springs that will increase their vehicles' efficiency. We even carry SuperSprings, which are additional attachments to the standard design leaf spring that provide added capabilities and load tolerance.
Why Choose Leaf Springs From General Spring?
At General Spring, we know that details matter. Over the years, we've learned a few tips for improving leaf springs for better performance above and beyond what OEMs require. One major modification we've implemented is an improved clip design incorporating metal riveted clips with clip bolts.
By using this design, you get extra strength on the clips, thus eliminating the squeaking that sometimes occurs in this section of the leaf spring. Our improvements over OEM specifications and unbeatable prices set General Spring leaf springs apart from the competition in the industry.
Choose General Spring for Leaf Springs
The team at General Spring specializes in leaf springs for all makes and models of vehicles, so we know what it takes for a leaf spring to make your suspension system work properly. With 50 years in the business of automotive and truck suspensions, our experts have the knowledge and advice you need to pick the right product for your vehicles. We can make custom leaf springs for vehicles with hard-to-find parts.
Browse our selection of leaf springs to find the best one for your vehicle's requirements. If you have any questions, contact us today. With the best suspension products in the business and top-quality advice, you will be happy with your new suspension system.