Dodge Ram Leaf Springs: What You Need To Know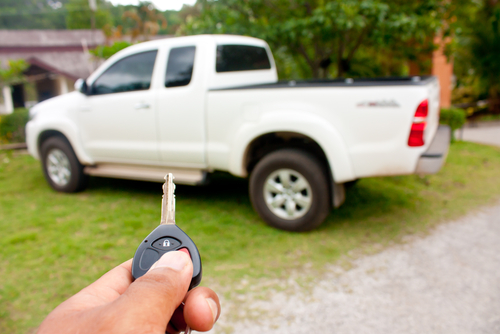 One of the most popular trucks in North America is the Dodge Ram, having approximately over 500,000 purchased in 2015 alone. With so many of these trucks on the road doing a lot of heavy hauling and towing, it's inevitable that they will need replacement leaf springs from time to time. That is why the team at General Spring carries a variety of leaf springs that will fit your Dodge Ram, regardless of the make or model.
Bigger Trucks Need Larger Leaf Springs
It goes without saying that a bigger truck with more capacity needs a larger leaf spring to carry its load. One of the benefits of the Dodge Ram is that it is available in three sizes: 1500, 2500 and 3500, and we carry the leaf springs for all of these models. Since the Dodge Ram comes in a half ton, ¾ ton, and 1-ton capacity, we're confident that we have the leaf springs you need for each of these models.
Even within one particular style, we can supply options for greater carrying capacity. For instance, with the half ton Dodge Ram 1500, we offer the leaf spring option of a 4-leaf pack with a capacity of 1,700 lbs., or a 5-leaf pack with a capacity of 2,200 lbs. Whichever Dodge Ram model you have, it's worth it to call the experts at General Spring to determine the right leaf spring for your driving and towing needs.
Other Considerations for Best Suspension Performance
While truck capacity is one thing to consider, another important consideration is the model year. The Dodge Ram has been around since 1972, and the fit of the leaf springs has changed significantly over time. If you are dealing with an older model, we carry the leaf springs you need, while other leaf spring manufacturers might have trouble getting you the necessary parts.
Another difference to pay attention to on the Ram models is the option for 2-wheel drive or 4- wheel drive. Both models have 4-leaf spring model with a capacity of 2,800 lbs. and a 5-leaf spring model with a capacity of 3,300 pounds, but you need to make sure you get the right leaf spring to fit your truck.
How to Determine if You Need to Replace Your Dodge Ram Leaf Springs
The last thing you want is to find out you need new leaf springs after it's too late and you've already experienced a failing suspension system. Luckily, it's relatively easy to tell if you need a replacement. The most apparent clues will often be evident when you're behind the wheel of your vehicle.
If you notice your Dodge Ram suspension no longer holds the road like it used to, struggles to haul and tow heavy workloads, provides a bumpy ride and bottoms out on rough terrain, chances are it's time for new Dodge truck leaf springs. You can confirm there's something wrong with your equipment by performing an inspection.
First, make sure your truck's body is at the proper ground clearance and that it doesn't lean to one side or dip at the backend. Next, look under the vehicle on the front or rear end at either the bottom or top of the axle to find the stacks of bowed, narrow strips of steel that are your leaf springs. If you see extensive rust and corrosion, cracks or other signs of damage, get them replaced.
Do You Need a Heavy Duty Upgrade or a Standard OEM Replacement?
Determining what kind of leaf springs you need for your Dodge Ram suspension depends on how you use your vehicle. Questions to ask include:
Are you a general contractor looking to increase payload for heavy-duty applications?
Do you use your truck to tow construction equipment or recreational vehicles?
Are you harder on your suspension than the average driver and keep wearing out your standard springs?
If you put your truck through tough challenges regularly, you should consider investing in a heavy-duty upgrade.
If you don't need to increase the payload of a Dodge Ram, then a standard OEM replacement will do the trick. Our leaf springs are designed to deliver the same reliable performance and fit your truck just like the parts it's replacing.
What Leaf Springs Are Available for Dodge Ram Trucks?
General Spring is proud to carry an extensive inventory of leaf springs for just about any Dodge or Ram truck. From 1/2 Ton (150/1500), 3/4 Ton (250/2500) and 1 Ton (350/350) trucks to Dakota or Durango, we offer options for all different model years.
You'll find front and standard OEM replacement springs and heavy-duty-upgrades for two-wheel-drive and four-wheel-drive trucks. Custom design solutions are also available to produce Dodge truck leaf springs for older vehicles or to meet your unique specifications.
How General Spring Provides You With Superior Service
When you partner with us for replacement leaf springs, we'll make sure you have all the information you need to make the most informed purchasing decisions. We strive to provide superior service and aftersale support from knowledgeable representatives who are experts in troubleshooting and installing the products we sell.
We'll process your order quickly and have it delivered fast, so you can get your truck back on the road and operating in peak condition.
General Spring: Your Experts in Suspension Products
It's not often that you find a truck parts supply company that has been around longer than the Dodge Ram, but we have. General Spring has been an automotive leaf spring and suspension authority since 1965. And we pride ourselves in supplying our customers with quality products, fast shipping, all at the lowest possible prices. By keeping our most popular items stocked in our warehouse, we're able to quickly ship products to our customers around the country, and even the world.
Whether you need to replace old, worn, cracked or broken springs, or need a heavy-duty option, the leaf spring professionals at General Spring have what you need. If you are local to New Century, KS, you can stop by our full service shop, or call us at 913-829-0619, while national customers can call us toll free at 1-888-829-0619. You can even contact us through our online form. We're confident that we can help you find the right type of suspension product at a price that is both affordable and reliable.