Replacing the Worn Leaf Springs on Your GMC Sierra
As the backbone of your truck suspension, your leaf springs take the brunt of the punishment that rough roads and heavy loads inflict. When you go over bumps or potholes it is the leaf springs that stretch and contract to absorb the shocks so that your ride remains smooth. With all of this stretching and contracting, it is no wonder that the steel of these springs can eventually wear out.
How Can I Tell If a Leaf Spring Needs a Replacement?
It is easy to tell if your suspension is in trouble even if you are not hearing the axle bottom out on every bump and pothole. The best way to inspect your suspension is to park your truck on an even surface and look at the front and back of the vehicle to see if its level. If the truck is sitting unevenly, then your leaf springs may be damaged, worn, or broken.
If this is the case, you need to remove the wheel and inspect the leaf springs. Use a wire brush to remove any dirt and grime so that you can look closely at the condition of the leaf springs and its attachments. If clips have come loose then you can tighten them and move the leaves back into place, but if you find that the leaves are worn, cracked or damaged you will likely need to replace them with new parts.
Physical damage isn't the only indicator of suspension problems. Here's an at-a-glance look at some of the most common symptoms of a worn-out leaf spring on a GMC Sierra:
Tilting or leaning to one side: If one side of your Sierra rides higher than the other, a worn out leaf spring is likely the culprit.
Bouncing or bottoming out: If you find yourself bottoming out or bouncing when going over bumps in the road, one or both of your leaf springs isn't doing its job and may require replacement.
Uneven wear: Alignment issues caused by worn leaf springs can also lead to irregular tire wear — if you notice the inside and outside of your tires wearing out at different rates, check your leaf springs, along with other suspension components.
Difficulty carrying a load is another sign of leaf spring problems — if your truck sags too much when loaded or hitched, it may be time to replace or upgrade your leaf springs.

What is Available for the GMC Sierra?
Since the GMC Sierra is available in a ½ ton, ¾ ton and 1 ton model , it is important to purchase the right leaf springs for your particular model of truck. In addition, the model year is important since the leaf springs have changed with the advances in models and the improved capacities required for trucks since 1936 when the first GMC trucks came out. Before you call the professionals at General Spring, be sure to know both the model and year of your truck in order to make an accurate purchase.

We sell both standard and heavy-duty leaf springs for all GMC Sierra models, including the ½ ton 1500, the ¾ ton 2500 and the 1-ton 3500. For most applications, replacing your leaf springs with a standard-duty aftermarket product will save you money compared to buying OEM, while delivering a comparable level of performance. If you frequently haul heavy loads, go off-road or take on other demanding tasks, upgrading to a heavy-duty spring will provide better performance and longer service life.
The GMC Sierra has always shared a platform with Chevrolet's trucks and SUVs — first, the C/K series and later the Silverado. As a result, leaf springs are often interchangeable between marques. However, it's always best to check with a representative.
How to Replace the Leaf Springs on a GMC Sierra
Replacing the leaf springs on a GMC Sierra is a straightforward job that's within the capabilities of many DIY home mechanics. However, some special tools are required. Here's a brief overview of how to proceed:
Loosen the existing springs and suspension by rubbing oil around the leaf spring's nuts, bolts and brackets. This will reduce corrosion and make it easier to remove the worn-out parts.
Lift the truck, either on a hoist or by chocking the front wheels and raising the rear with a jack. Then, remove the rear wheels — loosen the lug nuts before you lift.
Remove the old leaf spring, first by taking off the shock absorbers, then the base plate. Raise the axle and take the pack out from the center pin. Then, remove the spring's forward mount, outer plate and shackle, in that order.
Install the new shackle and attach the leaf spring to it, making sure the spring is aligned. Secure the spring with new fasteners, but leave some slack for later adjustments.
Complete the installation by securing the spring, installing the U-bolts and torquing all fasteners. Reapply the shock absorbers. After seven days, recheck all bolts and re-tighten as necessary.
For detailed instructions and more tips for replacing the leaf springs on your GMC Sierra, check out our blog post, How to Replace Leaf Springs: A Step-by-Step Guide.
Where is the Best Place for Suspension Products?
As an automotive leaf spring and suspension authority since 1965, the team at General Spring has learned a lot about what is needed to make a suspension work properly. As a full service shop, the people you talk to on the phone to ask about suspension products are the same technicians that install our products every day. You can be sure that you're working with someone who knows what they're doing from start to finish.
Whether you need to replace old, worn, cracked or broken springs, or need a heavy-duty option, you can be confident that General Spring will have exactly what you need.
If you are local to New Century, KS call us at 913-829-0619, and national customers can call us toll free at 1-888-829-0619. You can also contact us online. For quality products, fast shipping, low prices and items in stock, look no further than General Spring of Kansas City.

General Spring of Kansas City is your source for quality products, fast shipping and low prices, whether you replace the leaf springs on a GMC Sierra, Chevy Silverado or other GM truck. We have an extensive inventory of items in-stock and ready to ship to you — shop online and place your order today for fast delivery anywhere in the country.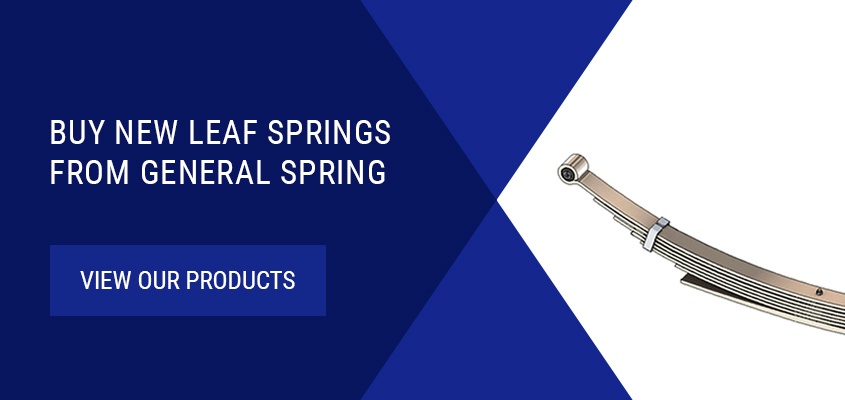 GMC Sierra OEM Leaf Springs at General Spring
The GMC Sierra is a very popular half-ton pickup truck, and if you have one, you will want to keep it in tip top shape to get the most from your investment. Of course, one of the most important parts of a well-functioning pickup truck is its suspension. Without a suspension that is functioning properly, your truck will have trouble carrying the loads you need it to move. This is precisely why it's incredibly important to regularly monitor your suspension performance.
How Do You Monitor Your Suspension Performance?
One of the easiest ways to tell if your suspension is having issues is to look at your truck from the front and back and see if it sits lower on one side or the other. If so, you might have a sagging leaf spring on the side that is sitting lower.
After removing the wheels, take a closer look at the leaf springs, cleaning any dirt and grime with a wire brush if necessary. If you see a leaf has slipped, you might be able to put it back in place and tighten the clamps, but if you see cracks or excessive wear, then replacing the leaf springs is your best bet.
What to Do If You Need New Leaf Springs
If it has been determined that you need new leaf springs , make sure you purchase the right fit and model year for your truck. Not every truck is the same, so leaf springs differ between brands and even model years. Having the right fit is critical to bringing your truck back to factory standard.
If you are replacing your leaf springs, and it is earlier than expected, you might also want to consider installing heavier duty leaf springs that can handle a heavier load. You may have worn your leaf springs out early by overloading, and this can help alleviate this common problem for truck owners. The experts at General Spring can answer any questions you may have on making this improvement to your truck.
The Best Place for GMC Sierra Suspension Parts: General Spring
We have been in the leaf spring and suspension business for almost 50 years, and our dedicated service team has the knowledge and expertise to answer all of your questions on suspension products. We specialize in leaf springs, coil springs, add-a-leafs, load support and attachment parts; and since we're also a full service shop, the people who answer your questions are the same expert technicians that install our products each and every day.
On top of providing service for OEM parts, we can also have leaf springs made specifically to meet the needs of our customers. Regardless of the make and model of your vehicle, we're able to custom make leaf springs to your liking. This even includes older models, where parts are extremely difficult to find. Whether you need to replace old, worn, cracked or broken springs, or need a heavy-duty option, General Spring has you covered.
If you are local to New Century, KS call us at 913-829-0619, and national customers can call us toll free at 1-888-829-0619. We have the local touch, but can also ship out our products to the entire United States and even the world. Call us now to learn more about our high quality OEM leaf springs and other suspension products.