Causes of Sagged, Cracked, or Broken Leaf Springs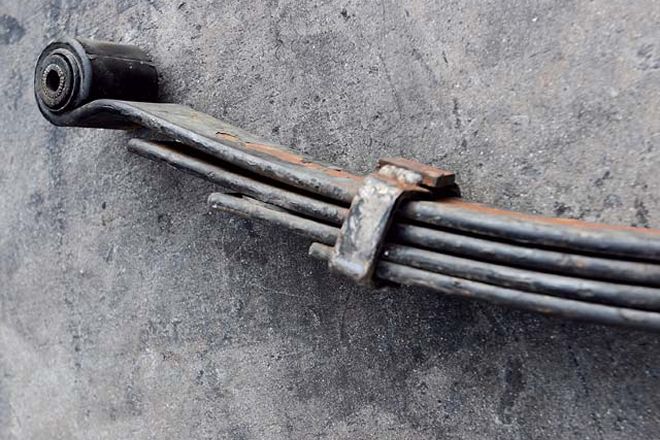 Leaf springs are susceptible to wear because they have several moving parts, and this is why it is important to check for sagged, cracked or broken leaf springs regularly. To check for wear in your leaf springs, you need to check how the vehicle sits when the tires are fully inflated without any passengers. Look under the vehicle for any deflection, and if the vehicle is sitting unevenly, you might have a weakened or broken leaf spring.
Where to Look for Leaf Spring Damage
Leaf springs can settle down with age, so this is important to inspect for in addition to damage and cracking. Check for excessive wear in the area where the leaves rub against each other during use. If there is dirt between the leaves of the leaf springs, this can also cause wear as well as rust, which can eventually lead to cracking or breaking.
After cleaning off the springs with a wire brush it is possible to look for cracking and damage on the leaf springs. Look for this damage in the places where the leaves rub and at each end where the leaves are attached, including the shackle. It is at these locations where the leaves are attached that cracking can most easily occur.
What Leaf Springs are Available?
General Spring has leaf springs for all of the major car manufacturers, and we can also have springs specially made for older vehicles for which the leaf springs are harder to find. If you need the right leaf springs for your vehicle and want top-notch customer service, look into what we have to offer. Here are a few models that we have in stock for quick shipping:
Jeepster/Commando front leaf spring, 6 leaf: Measures 20" x 26" with width of 1 3/4" and thickness of 1 9/16". Front bushings are included and the rear eye use HB745 bushings. Spring capacity is 605 pounds.
Oldsmobile rear leaf spring, 7 leaf: Measures 25 1/2" x 29" with width of 2". Includes front eye bushing.
Exceptional Customer Service You Need to Replace Leaf Springs
At General Spring we know what it takes to find the right product when our customers need to replace a sagged, cracked, or broken leaf spring. We have been an automotive leaf spring and suspension authority since 1965 and in this time we have learned what it takes to supply quality products, fast shipping, low prices and keep items in stock. Whether you need to replace old, worn, cracked or broken springs or require a heavy-duty option, we likely have exactly what you're looking for.
We are ready when you need to replace your leaf springs, or just need advice on how to improve your suspension. If you are local to New Century, KS call us at 888-829-0619. We can also be contacted by email and we will get back to you as soon as possible to answer all of your questions.