Toyota Tundra Leaf Spring Suspension Upgrades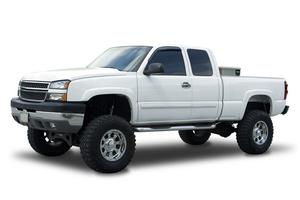 Toyota claims that their Tundra pickup truck is tough enough for any project, and when they advertise towing capacities of up to 10000 pounds you can see why. With this sort of capacity directly from the factory it is hard to imagine the need for an upgrade to the suspension, but for some applications this is necessary.
At General Spring we have a few options to help upgrade the suspension of your Toyota Tundra.. Below are a few, but call us to find out the best option for your unique needs:
Timbrens Suspension Enhancement System: Reliable Suspension Improvement
Timbrens are hollow rubber springs that can easily be installed by simply bolting them in place to provide better load capacity, reducing trailer sway and roll stability as well as suspension sag. The rubber cushions simply absorb the shock from the road and adjust automatically for uneven loads or road conditions.
With no airlines or fittings to allow for leaks, timbrens are an easily maintained addition to your Toyota Tundra suspension system.
SuperSprings: Able to Handle Heavy Loads when Needed
SuperSprings are a revolutionary product that is engineered to bolt right over your existing leaf springs without adding unnecessary strain and can improve ride handling by 30%. No maintenance is needed and installation is simple for these units, and the biggest benefit is that they only engage when the load is heavy enough to need the extra suspension.
In this way you do not encounter problems that are sometimes found with installing heavy duty springs, especially if you're driving when your truck bed is empty.
Roadmaster Active Suspension: The Ultimate Suspension Assistant
The Roadmaster Active Suspension is available for your Toyota and is designed to work with your existing leaf springs suspension by providing the performance of a sway bar, air bag and track bar in one integrated system. They eliminate shock on the suspension itself, which extends the life of leaf springs, shackles and shock absorbers.
Since they do not impose motion on the leaf springs eye bracket, there is no friction to cause suspension problems. The system independently adjusts to compensate against unbalanced loads for a greater stability and reduced sway.
For OEM Replacements or Heavy Duty Upgrade Work with General Spring
We have you covered for all things related to suspension equipment, be they OEM replacements or if you're interested in upgrading for more capacity. General Spring has been an automotive leaf spring and suspension authority since 1965, and our team has learned the ins and outs of helping people just like you improve the capacity and suspension of their trucks. We specialize in leaf springs, coil springs, add a leafs, load support and attaching parts.
If what we have in our warehouse and catalog doesn't do, we can also have leaf springs custom made to your unique specifications, especially if you have an older vehicle where springs are no longer readily available.
If you are local to New Century, KS call us at 913-829-0619. If you're outside of Kansas, feel free to reach us toll free at 1-888-829-0619. Whenever you need to upgrade the suspension in your Toyota Tundra, we have the knowledge and expertise to make it right the first time.