What to Know When Replacing Your Ford Truck Leaf Springs
Not every Ford truck is built the same, you know that, but did you know that even on the same model Ford Truck you can have many different load capacities for your leaf springs? Not everyone uses his or her truck the same way. So it's important to know what the capacity of your truck's leaf springs are before you start to load your truck bed. By taking this precaution, you can avoid overloading your leaf springs and causing major damage to your truck.
Ford Leaf Spring Fit Truck Category Matters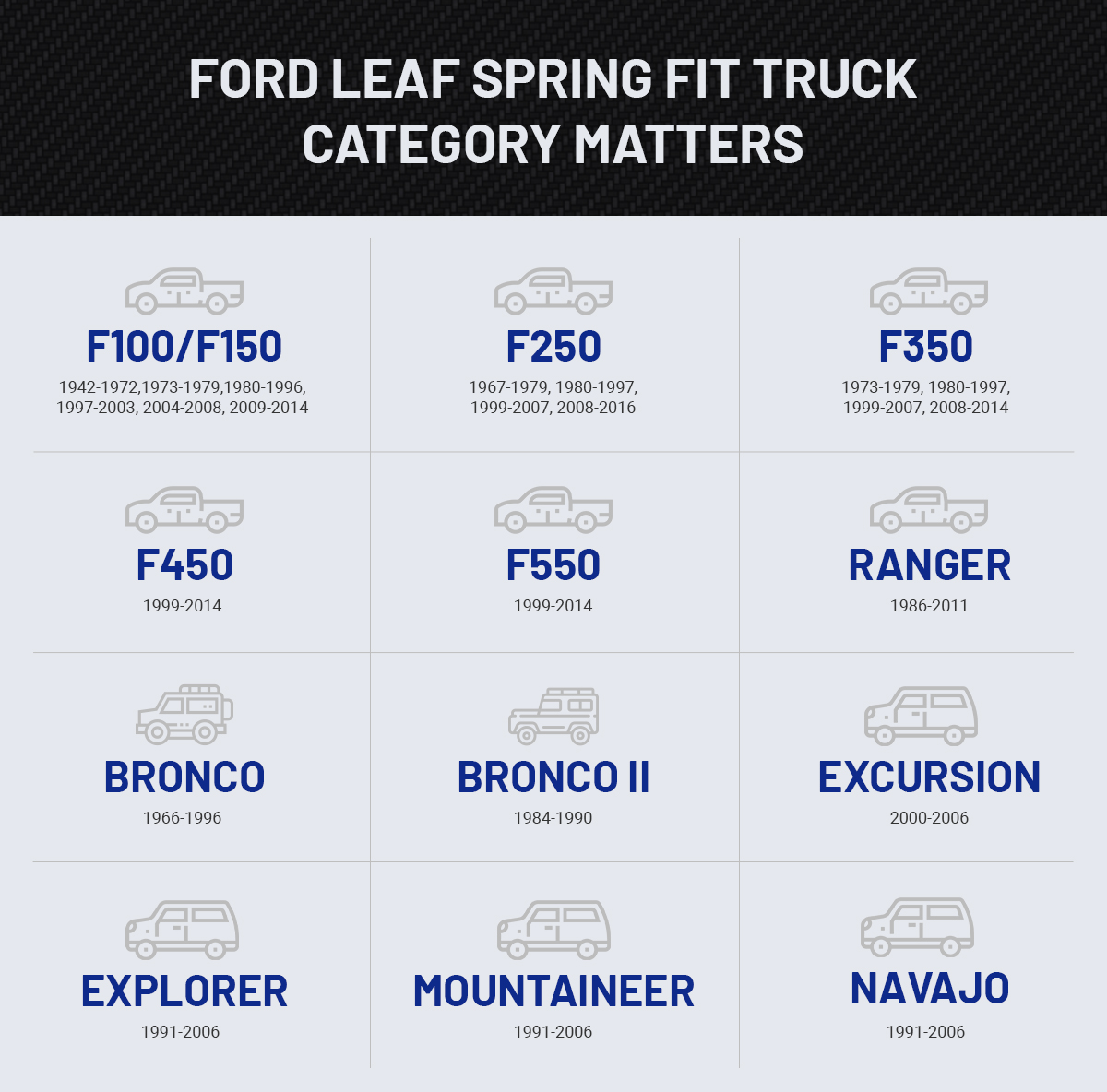 At General Spring, we realize that the fit of the leaf spring depends on the truck, so we carry leaf springs for many of the different varieties of Ford trucks. We can supply leaf springs for the F100, F150, F250, F350, F450, F550, Ranger, Bronco, Bronco II, Excursion, Explorer, Mountaineer, and Navajo.
However, even within some of these varieties, the model year of the truck can make a big difference. For instance, the F350 has had four different leaf springs sizes over the years. The springs were the same between 1973 – 1979, 1980 – 1997, 1999 – 2007 and 2008 – 2014. As experts in the field of suspension products, we can ask the right questions to help make sure you choose the right product for your vehicle.
How Different Can the Capacity Be for Each Truck Type?

Take for instance the Ford F350 for model years 2008 – 2014. We carry four different model leaf springs that will fit the rear suspension on this truck. All measure 33 ¼" X 33 ¼" with a width of 3", but the spring capacities are 2,700 lbs., 3,600 lbs., 4,400 lbs. and 5,000 lbs.
The two lower capacity springs have 5 leaves and the two larger capacity springs have 6 leaves, to help take the extra weight. As you can see, there are a lot of options for load capacity when you are fitting leaf springs to your truck.
How to Tell if the Leaf Springs on Your Ford Truck Need to be Replaced

In the event you need to replace Ford truck leaf springs, it's most likely your truck will be the first to let you know. The most common indicators you're experiencing issues will be apparent in how your vehicle performs on the road.
If you notice you're no longer able to tow or haul to maximum capacity safely, your truck sways when traveling at higher speeds or struggles to handle tight turns or bumpy and rough terrain, then chances are you need replacement leaf springs.
Conducting a thorough visual inspection will confirm the health and condition of your suspension. Walk around the truck to see if the back end is sitting lower to the ground than usual or if the body leans to one side or the other.
Look under the vehicle to find the leaf springs, a stack of bowed, narrow strips of steel, on the front or rear end at either the bottom or top of the axle depending on your model of Ford.
If your leaf springs are sagging or showing signs of damage such as corrosion, cracking and breaking, they need to be replaced as soon as possible to avoid unsafe driving conditions and more costly repairs.
Determining if You Need a Heavy Duty Upgrade or Standard OEM Replacement

The type of leaf springs you require depends on how you use your truck. If you mostly drive your vehicle on the highway and don't do any significant hauling or towing, a standard OEM replacement kit will provide plenty of support. Another factor is how often you use your truck for heavier applications and how much stress you put on your suspension. If you tend to stay within your rated capacity range, you'll probably want to stick with a standard solution.
When you use your truck for work on a farm, construction site or other rugged environment or application, it's more likely you'll opt for heavy-duty replacement leaf springs for your Ford Truck. Whether you're hauling stumps, dirt and debris or towing equipment and machinery, an HD suspension will increase your capacity to handle heavy loads while lasting longer than standard springs.
What Capacity Do You Need for Your Ford Truck?
Your capacity requirements are essential to know when replacing your leaf springs to ensure you have the support you need to handle every challenge. You can find your original capacity ratings through your manufacturer or original vehicle owner's manual.
If your factory equipment was always able to get the job done for you then a standard capacity is what you need. When you have applications that frequently meet or exceed maximum ratings, you can choose the heavy-duty payload suited to your requirements.
What Ford Truck Leaf Springs Does General Spring Offer?
We carry Ford truck leaf spring replacements for models from the complete line of F100 through F550 pickups, plus Ranger, Bronco, Excursion, Explorer, Mountaineer and Navajo.
We also carry standard OEM replacement and heavy-duty upgrade kits for front and rear suspensions and two-wheel drive, all-wheel-drive and four-wheel-drive vehicles. Our custom Ford replacement leaf springs are an ideal solution for older and classic models as well as for trucks with modifications or special applications.
General Spring is the Place to Turn for all Your Suspension Needs

At General Spring, we have specialized in leaf springs, coil springs, add-a-leafs, load support, and attaching parts for over 50 years. In over half a century, we have learned a bit about what it takes to make a vehicle suspension work properly. Whether you are needing to replace old, cracked, worn, or broken springs, or need a heavy-duty option to improve your load capacity, we have what you need. We're confident that we can help you find the right type of suspension product at a price that's affordable to you.
We have a large warehouse, allowing us to perform a quality check prior to shipping out any of suspension products to you. If you're local to the New Century, KS area, we have a full-service shop, where we can handle all of your suspension repairs. Feel free to reach out to us locally at 913-829-0619, or toll-free at 1-888-829-0619. You can even contact us online. We regularly ship products to customers all over the country, and even around the world.
We look forward to working with you soon.